Multi Head Air Conditioning Service Sydney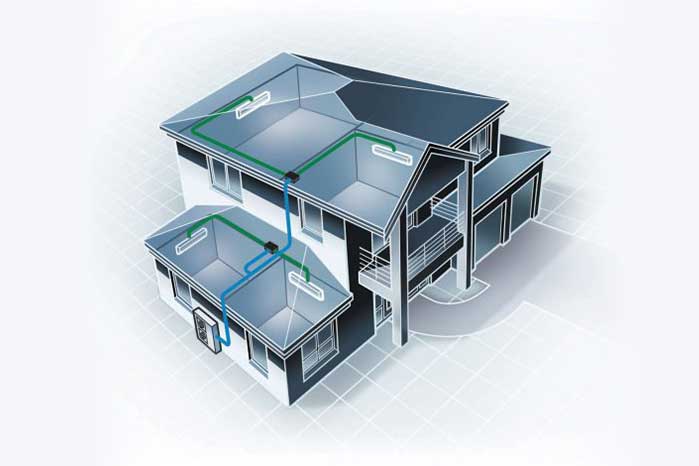 A standard multi-head air conditioning split system has multiple indoor units (Air Handlers) that are located in the rooms you want to condition and an external condenser that will sit outside in a convenient location. You can have multi head split systems installed into any room that you may require heating and cooling. Heat pump technology is present in a wide range of split systems on the market today. Heat pumps circulate refrigerant from the indoor unit to the outdoor through an insulated copper pipe. When warm air is passed over the indoor coil the heat is absorbed by the refrigerant. This creates cool airflow that is then expelled into the room.
The additional heat that has been absorbed inside is released through the external coil. This process can then be reversed to create heating. If this sounds difficult there is no need to stress, as our team of split system installation specialists across Melbourne make this process a breeze.
Considerations for Multi-Head Air Conditioners
The following are some of the factors to take into consideration when planning to install multi-head split systems:
Allowances For Installation of Air Conditioning Units
If you are building a home and are looking at having a multi-head split system installed it is important that your builder makes the correct allowances for the installation of the internal units. You have a wall hung split system or you can have a totally concealed bulkhead unit installed onto the system. With a concealed bulkhead indoor unit, the builder needs to box out the framework to specified dimensions, plus provide an access panel.
Choosing the Right Multi-Head Air Conditioning installation in Sydney & Northern Beaches
When you're choosing a multi-head reverse cycle split system, it's important that it suits your existing and future lifestyle as well as the design of your home. PSB Air Conditioning stocks a range of leading brands of wall-hung multi head split systems, including:
To Choose the ideal equipment for your house is an essential decision when you require AC installation in Sydney. From a variety of solutions to expert air conditioning installation, we are here to help you choose wisely ideal cooling system for your needs and budget. As soon as we ensure that you know how to use all the features of your updated equipment, our aim for you and your family is to have relaxing, comfortable air, even for the hottest days of the summer. Contact us to make an appointment for air conditioning replacement. We'll help you choose and install your new air conditioner.