Air Conditioning Northern Beaches
Northern Beaches & Sydney's Leading Provider of High-Quality Air Conditioning Systems
GET A NO OBLIGATION FAST FREE QUOTE
We're experienced with popular air conditioning brands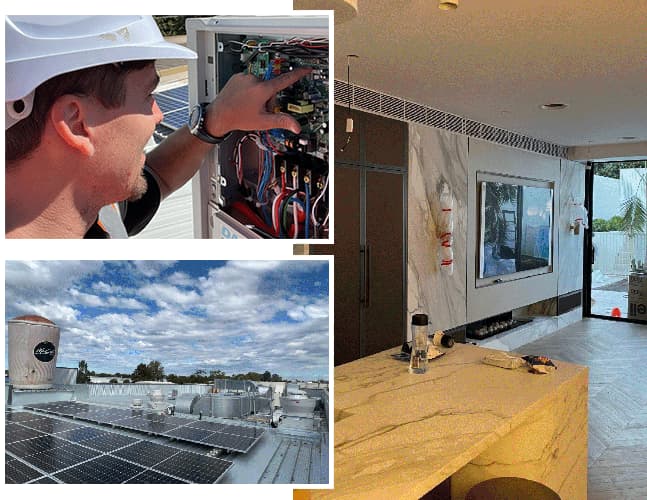 PSB AIR is your go-to expert for independent Northern Beaches air conditioning solutions and services. We are dedicated to helping you select the perfect equipment for your home, a crucial decision when it comes to AC installation in Sydney and surrounding suburbs.
We offer a wide range of Northern Beaches air conditioning solutions, systems, and specialised installations. Our team will be with you from the beginning, guiding you to make an informed decision on the ideal air conditioning system that caters to your needs and budget. Additionally, we'll ensure you understand how to utilise all the features of your new or upgraded equipment. We stock the best ducted air conditioning and split system air conditioning brands.
Our primary goal is to create a relaxing, comfortable, and cool environment for you and your family, even on the hottest days of summer, with top-quality Northern Beaches air conditioning.
Top Air Conditioning Northern Beaches Sydney
For the premier Air Conditioning Service Northern Beaches has to offer, look no further than PSB Air.
With over 15 years of experience, we have been providing independent air conditioning solutions to homeowners and businesses alike. Our service area has expanded, catering to valuable customers from the Northern Beaches to Western Sydney. We are renowned for delivering reliable, punctual, and reasonably priced air conditioning solutions. Whether you require air conditioner installation or repair, PSB Air is the top choice for the Northern Beaches community.
Residential and Commercial Air Conditioning Service Northern Beaches
We know residential air conditioning is an absolute requirement in the humid Australian climate – and we won't let you down. It can be challenging to choose the right equipment, so let us help you out! No matter what your budget is, we will help you find the right solution for your family and life. Our goal is to leave you happy, comfortable, and most importantly, cooled off, after our specialists visit your home in the metropolitan areas. Heating and cooling are important throughout the year. We assist residents with their beaches air conditioning.
When you contact us for residential or commercial air conditioning services and installations, you can expect a prompt call or email back. We won't leave you wondering if our voicemail isn't working. We'll get you set up with a free design and quote right away. We offer the best professional advice and offer a vast array of services, including but not limited to:
Ducted
Split System
Maintenance of aircon, mechanical systems, air-cooled and water-cooled systems
We are familiar with the best and most energy-efficient brands available in Australia that don't use gas. Our service, installation and maintenance plans can't be beaten and our technicians are well-trained, experienced, and friendly.
We love what we do, and we know you'll love the outcome of our work. Find out why we're the trusted choice for Air Conditioning Northern Beaches Sydney. Contact us for a free quote for your air conditioning unit at 61 402 684 317 or email us online on info@psbair.com.au today!
We service the Northern Beaches suburbs of
Dee Why, Mona Vale, Belrose, Manly, Narrabeen, Warringah and Waverley.
Why Choose PSB As Your Local Air Conditioning Specialists?
We Provide Services For All Northern Beaches Air Conditioning Systems
Improve Your Home's Indoor Air Quality
Modern homes are tightly sealed and insulated. While this makes them energy efficient, lower amounts of fresh air, indoor contaminants and constant recirculation can cause problems.
Cooling and Heating Systems - Sydney Air Conditioning
At PSB Air, we want to match you with the right system for your home.
Some of our residential services for heating and cooling include:
The Right HVAC Team Makes All the Difference
Regardless of the circumstances, if you need a new air conditioner put into your home or service in the Northern Beaches or Sydney suburbs, you can count on us to be there every step of the way. The right air conditioning repairs and installations start with sizing the unit's output to make sure it's right for your home, selecting a brand with a name for quality, and using high–end parts on the installation (such as nuts and bolts). That way, the system will be up and running at the maximum efficiency in the desired room, and you won't need to worry about an AC repair for some time to come.
We'll help you choose the air conditioning maintenance plan that will keep your system up and running for a long time. At PSB Air, we will also provide residential air con repairs across Sydney.
That's all part of our motto to improving lives by improving homes. In a city as hot and humid as ours, you should never have to depend on an older air conditioner that just isn't up for the job anymore. Call us today to set up an appointment with our leading independent air conditioning solutions and top Sydney air conditioning. If you're looking for the best Air Conditioning Northern Beaches has to offer, look no further than PSB Air.
Our Air Conditioning Projects